Water Sports with a Rope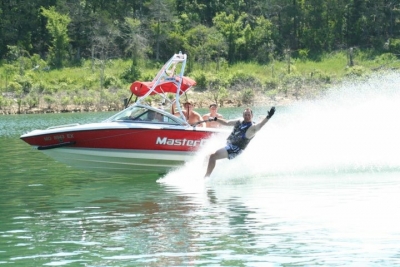 Wake boarders, we know what you're thinking.
You're tired of those lakes that you get dragged around and around and around. Boring, right?
You need a lake that won't make you ski in circles. A lake with great scenery. A lake where you won't see another boat every 45 seconds. A lake where you won't have to ski around other boats, skiers or swimmers. A lake with plenty of room to maneuver.
Norfork Lake
Built for a Boat with a Rope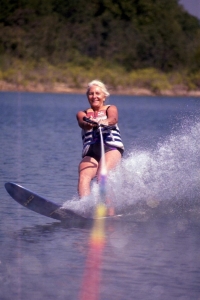 You can ski, tube, parasail, or wake board for an 80 mile, end to end, round trip run, and see the same thing only twice, and that's only if you're really paying close attention.
Just imagine warm water, flat as glass, and spectacular scenery. How about large bays to ski in and out of and small coves to just hang out in. Sand and gravel islands to ski around or to establish your " base camp" on.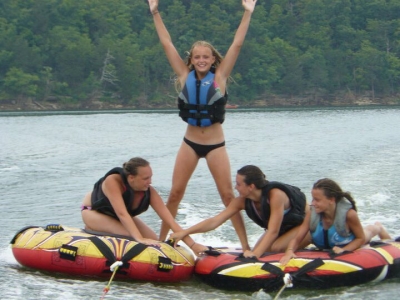 To us, skiing, wake boarding, tubing, parasailing, it's all one thing, water sports with a rope. So when you're looking to make that long run, this is the lake to do it on. Norfork Lake, built for a boat with a rope.
Start Planning Your Norfork Lake Vacation Today!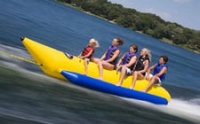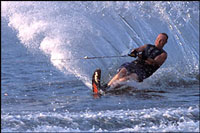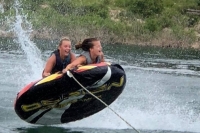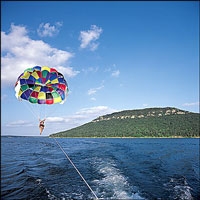 Got your attention?
Click below for more info.
HELP US PROTECT YOUR LAKE!
The Norfork Lake Tourism works diligently to
keep your lake free of aquatic nuisances, invasive species, and other
destructive forces to keep Norfork Lake pristine for generations to come.
Year Round Fun!