Dive Into Norfork Lake
Playing on top of the clear water of Norfork Lake is just half of the story. The real adventure is underneath the surface.
Rated as one of the top scuba and skin diving locations in the country, Norfork Lake is well known for its water clarity. Just imagine, diving in water that has up to 60 foot visibility dependent on the season.
Norfork Lake has a very active scuba and skin diving following. Divers from all over the United States have come to experience the outstanding dive sites and the crystal clear waters of Norfork Lake.
Full service PADI dive shops provide equipment sales and service, instruction, and dive boats rental.
Dive the old Henderson Bridge, located near the Panther Bay, Robinson Point, 101, and Henderson Recreation areas. There are over 29 different dive sites near the Hand Cove/Jordan Recreation areas, all charted and mapped. Snorkeling and diving for fish and other treasure is popular in the Pigeon Creek and Calamity Beach Recreation areas.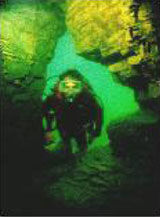 Divers can swim through sunken caves, amongst schools of fish, play on an underwater playground and explore a variety of other finds.
Events are scheduled and specifically tailored for the dive community. Don't miss the annual Treasure Hunt. Every year well over 100 divers arrive at Norfork Lake to search for hidden trinkets, treasures, and their chance at thousands of dollars worth of prizes. The Treasure Hunt, held on the sand beach of Jordan Island, is the season's pinnacle scuba event.
Get Certified on Norfork Lake
If you're not a diver but want to take the plunge, the Norfork Lake dive shops offer beginning open water through dive master lessons.
When you're certified as an Open Water diver by one of the Norfork Lake's PADI dive shops, you'll be able to dive to 60 feet whenever you're accompanied by a fellow diver of the same or higher certification level.
Lessons are available both in the pool and in the lake. Certification can be achieved over a short 3 day period.
Dive Attractions
Norfork Lake has the usual sites such as sunken boats and vehicles,
but is also home to an assortment of unique underwater oddities. Be sure to check out the bulldozer, the school bus, various foundations and structures from the time before the lake, and Dan's dynamite shack. And if you're lucky, you might even find the lake's drain plug.
One famous underwater attraction is the old Henderson Bridge. This bridge was built just 10 years before the Norfork Dam was completed and the lake filled. It is now completely under water. A new bridge has taken its place but the old Henderson Bridge is still standing. Divers love to examine the massive concrete span, one of the largest underwater structures in America. It is said that a Harley is still chained to one of the guard rails. See if you can ride it.
HELP US PROTECT YOUR LAKE!
Norfork Lake Tourism works diligently to
keep your lake free of aquatic nuisances, invasive species, and other
destructive forces to keep Norfork Lake pristine for generations to come.
Year Round Fun!