Norfork Lake Bass Fishing
By Greg Weinmann, Owner of Hand Cove Resort
And Tim Partin, Owner of 101 Grocery and Bait
Always well know as a great bass lake, the recent spawns have made bass fishing on Norfork Lake in the Ozark Mountains better than ever.
For over 60 years Norfork Lake's reputation as a lunker bass lake has grown. Whether fishing for Largemouth, Smallmouth, Whites, or Kentucky bass, you will find them in numbers and waiting for you at Norfork Lake.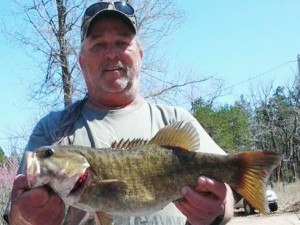 Many anglers enjoy the spring bite as the bass are typically shallow and the top water activity is heavy at different points of the day. Summer is always good too. Most species can be caught by jigging, drop lining, or long lining using live crawdads, worms, or minnows. Spinner, crank and jerk baits are always popular with the fish too. And don't overlook fall. Great water, great weather, and great action. Spinners with larger blades typically do well.
Recent Spawns
The last few years have produced outstanding bass spawns. Higher lake levels in the spring of 2011 and again in 2015 and 2017 gave the bass spawn plenty of cover, free of predator fish interference. As a result, Norfork Lake's bass population increased dramatically.
There is no closed season on Norfork Lake. Fish all year if you wish. Winter, prior to the spawn, is the favorite for locals. The fish are feeding heavily, especially the larger ones. There is nothing better than to grill that 3-lb. spotted bass caught in the winter out of these clear, clean waters.
No Closed Season On Norfork Lake
During the spring, be sure to watch for the bass chasing shad. When you see them, it's on!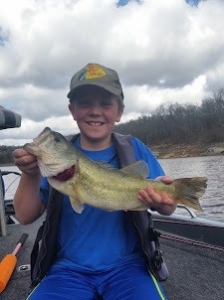 In summertime, the fish are deeper during the day and come to the bank to feed in the early mornings and evenings. Some anglers sight fish by looking for nests after the spawn. The males are guarding the nests and are very aggressive to anything near them. Catch and release is recommended during this time.

The months of May, October, and November offer the best combination of weather and fishing conditions using a mix of top-water spinner and crank bait fishing.
Population Boom
The 2015 and 2017 spring rains and subsequent high water events produced a phenomenal spawn of bass and other Norfork Lake species. The Arkansas Game and Fish Commission predicts that beginning with the 2019 season, fishing on Norfork Lake will be fantastic for years to come.